By Ty Burke
Coffee is Canada's most popular beverage. More than 70% of adults drink it daily – even more than consume tap water.
Small-scale roasteries like Ottawa's Happy Goat Coffee Company have sprung up across the country, bringing coffee enthusiasts a richer and tastier brew. But our collective caffeine habit comes at a significant environmental cost.
The fruit of the coffee plant is a small cherry, and at its centre are two beans. Green coffee beans arrive in Canada encased in the cherry's many layers of plant matter: silverskin, pectin, pulp, and outer skin. Most of these layers, including the grounds, become waste. Canada's coffee roasteries now produce thousands of tons of waste each year. It is a problem that didn't really exist a decade ago, when much more of our coffee was roasted before it was imported. One layer, silverskin, is released during the roasting process.
Kimberlynn McDonald has been working with Happy Goat Coffee to find ways to put one of those layers of plant matter to use. The Carleton M.Sc. Chemistry graduate recently completed an internship with Happy Goat Coffee, where she performed chemical analysis on the silverskin layer. Developing more uses for silverskin would add value for roasters and coffee growers alike, but the company wants to be sure that any products it makes meet food safety standards.
"Coffee is such a major commodity. Even as consumption increases, the value of the bean itself is going down," says McDonald.
"Roasters don't make as much money, even as they produce more coffee to meet demand."
In some countries where coffee is produced, silverskin is made into a tea. Happy Goat Coffee's Dr. Hans-Juergen Langenbahn is exploring whether this could be done here – and whether there could be other uses for it.
"Silverskin is a little like snowflakes – light but with a lot of volume," says Langenbahn.
"Tea made from it tastes earthy and little bitter. At Happy Goat, we have been matching it with a variety of flavours, and some pair very well, but it could also be possible to make an extract from it, and use it in food products."
When the silverskin is heated during roasting, the plant equivalent to cholesterol can be converted to phytosterol oxidation products (POPs) are produced. Happy Goat and the team at Carleton wanted to find the time-temperature ratio at which the least POPs are present.
"Roasting coffee beans is an oxidative process," says McDonald.
"You heat the beans in large, rotating roasters where there is oxygen. As you increase the temperature, the plant sterol is susceptible to oxidation, which produces POPs. We found that at a threshold of about 148°C (300°F), you see a peak in POPs. And the production of these compounds is minimized if you roast below that temperature."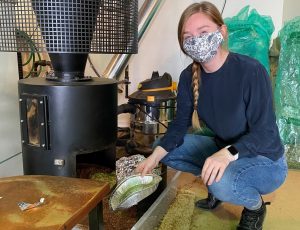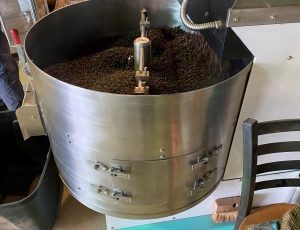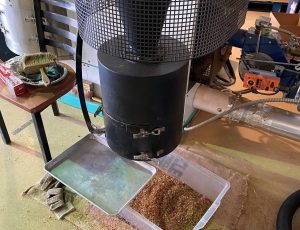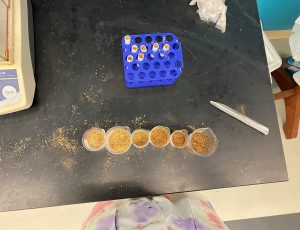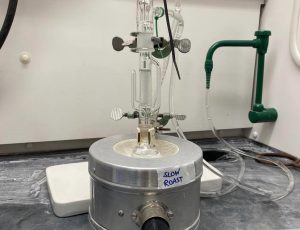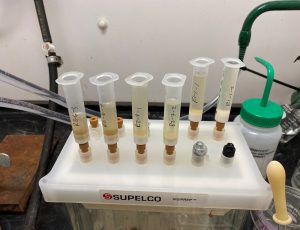 McDonald conducted the research as part of a Mitacs Accelerate internship. The program funds four-month internships for students and post-doctoral fellows, and gives practical experience that can help land a job. McDonald has been hired by Vancouver-based environmental consultancy Golder Associates, where she will be sampling chemicals in the environment from mines and other anthropogenic sources.
"Mitacs runs a tremendous program," says David Miller, a Distinguished Research Professor in Carleton's Department of Chemistry who, along with Chemistry Prof. David McMullin, co-supervised McDonald's internship and developed the project with Happy Goat Coffee.
"It is beneficial for small companies, and gives students private sector experience. It shows they can do work with economic value in the private sector. If a hundred people come for an interview, and you're the one who has something different than a thesis in a business, that's a big benefit. It makes you stand out."
Wednesday, February 3, 2021 in General
Share: Twitter, Facebook