The Herzberg Lectures are held annually in honour of Gerhard Herzberg, a former Chancellor of Carleton University and recipient of the 1971 Nobel Prize for Chemistry. The lectures emphasize the relationship between science and society and seek to address an aspect of science which has a pronounced impact on our daily lives.
The Herzberg Lectures are free and open to the public.
Biological and Cultural Evolution: Six Characters in Search of an Author
Hosted by the Faculty of Science
Tuesday, Nov. 27, 2018 at 7 p.m.
Parking is available in lot P16
Join the Conversation: #HerzbergLecture18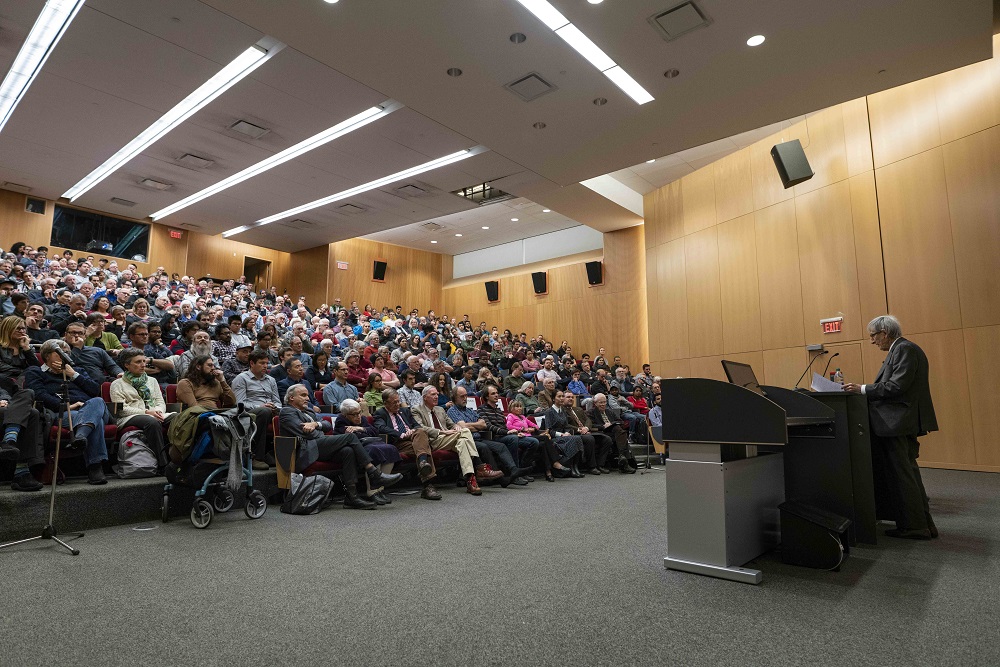 What plays a bigger role in evolution: biology or culture? And when did the direction of evolution shift from diversification to unification?
In this highly-anticipated lecture, Dyson will demonstrate how the concept of evolution has itself evolved over the last 200 years. He'll do this by examining the ideas of some of the biggest names in the field: Charles Darwin, Motoo Kimura, Ursula Goodenough, H. G. Wells, Richard Dawkins, and Svante Pääbo. Using the Pirandello play, Six Characters in Search of an Author as a metaphor, Dyson will explain the overarching story that these scientists' theories have told, and how a better understanding of this can help you to become a wiser and more responsible inhabitant of our planet.
About the Speaker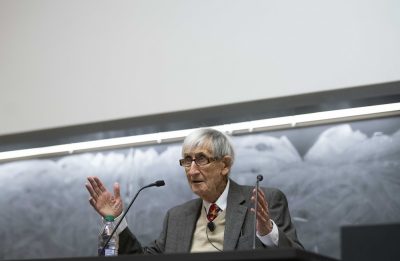 Freeman Dyson is a British-born American mathematician and theoretical physicist most famous for his work in quantum electrodynamics, solid-state physics, astronomy, and nuclear engineering. Revered by many as one of the greatest scientists of the 20th century, Dyson's breadth of knowledge and experience has earned him a certain celebrity status in scientific circles. Over the course of his career he has had a front-row seat for many scientific breakthroughs, and his friends and colleagues have included some of the world's most renowned mathematicians, physicists and intellectuals of our time – like Pauli, Oppenheimer, Feynman, and Bethe. Dyson has received several honours for his pioneering contributions to science, including the Wolf Prize for Physics. Now professor emeritus of the Institute for Advanced Study in Princeton, New Jersey, he continues to share his knowledge with others through public speaking engagements. He is also an active reviewer for The New York Review of Books.
Watch the 2018 Herzberg Lecture
Biological and Cultural Evolution: Six Characters in Search of an Author by Freeman Dyson
Previous lectures, 2000-present
Wetlands: The Kidneys of Our Planet (2016)
Dr. William J. Mitsch
Juliet C. Sproul Chair for Southwest Florida Habitat Restoration and Management and Professor of Marine and Ecological Science Juliet C. Sproul Chair for Southwest Florida Habitat Restoration and Management Professor of Marine and Ecological Science, Florida Gulf Coast University
The Brain on Stress: Novel Epigenetic Mechanisms of Brain Plasticity (2015)
Dr. Bruce McEwen
Alfred E Mirsky Professor and Head of the Harold and Margaret Milliken Hatch Laboratory on Neuroendocrinology at the Rockefeller University
More Food, Smaller Footprint: Earth System Science and Biological Agriculture (2014)
Dr. Gerald M. Ross
Organic Farmer and Consultant in Farm Design, Maui, Hawaii
Must We Irradiate Food?
Dr. Rick Holley, University of Manitoba
Shaken and Stirred: The Cost of Earthquakes and How Science Can Help (2011)
Dr. John Cassidy
Research Scienties, Geological Survey of Canada, Natural Resources Canada and Head of the Earthquake Seismology Section
The Dynamic Brain: Adaptation, Changing Environments and Life Circumstances (2010)
Dr. Anthony Phillips
Scientific Director, CIHR's Institute of Neurosciences, Mental Health and Addition
Doing More Good than Harm: Building an Evidence Base for Environmental Policy and Practice (2009)
Dr. Andrew Pullin
Centre for Evidence-based Conservation
University of Wales, Bangor, Wales
The Large Hadron Collider: Shedding Light On a Dark Universe (2008)
Dr. Rolf-Dieter Heuer
Director in Charge of High Energy Physics and Astroparticale Physics, Deutsche Elektronen-Synchrotron
Seeing and Feeling Nanotechnology: Plastics That Change Colour With Electricity and Pressure (2007)
Dr. Geoffrey A. Ozin
Tier 1 Canada Research Chair and Distinguished University Professor
Origami, Linkages, and Polyhedral: Folding with Algorithms (2006)
Dr. Erik D. Demaine
Associate Professor of Computer Science, Massachusetts Institute of Technology
The Art of Research (2005)
Dr. Ram Murty
Professor and Queen Research Chair in Mathematics
Dinosaurs: The Cultural Icons of Science (2004)
Dr. Philip Currie
Head of the Dinosaur Research, Royal Tyrrell Museum of Paleontology
Fisheries Impact on Marine Ecosystems and Their Implication of Global Securities (2003)
Dr. Daniel Pauly
Professor of Fisheries, University of British Columbia
How Does the Sun Shine? (2001)
Dr. John N Bahcall
Institute for Advanced Study School of Natural Sciences, Princeton University
Words and Rules: The Ingredients of Language (2000)
Dr. Steven Pinker
Department of Brain and Cognitive Sciences, Massachusetts Institute of Technology