22nd Annual Biology Butterfly Show
Saturday, Oct. 2 to Sunday, Oct. 10, 2021
The Department of Biology invites you to share in the magic of butterflies this October. The department's 2021 Biology Butterfly Show will consist of live, virtual guided tours in English and French presented by Let's Talk Science Ottawa, a STEM Storytime session, and other fun, online activities.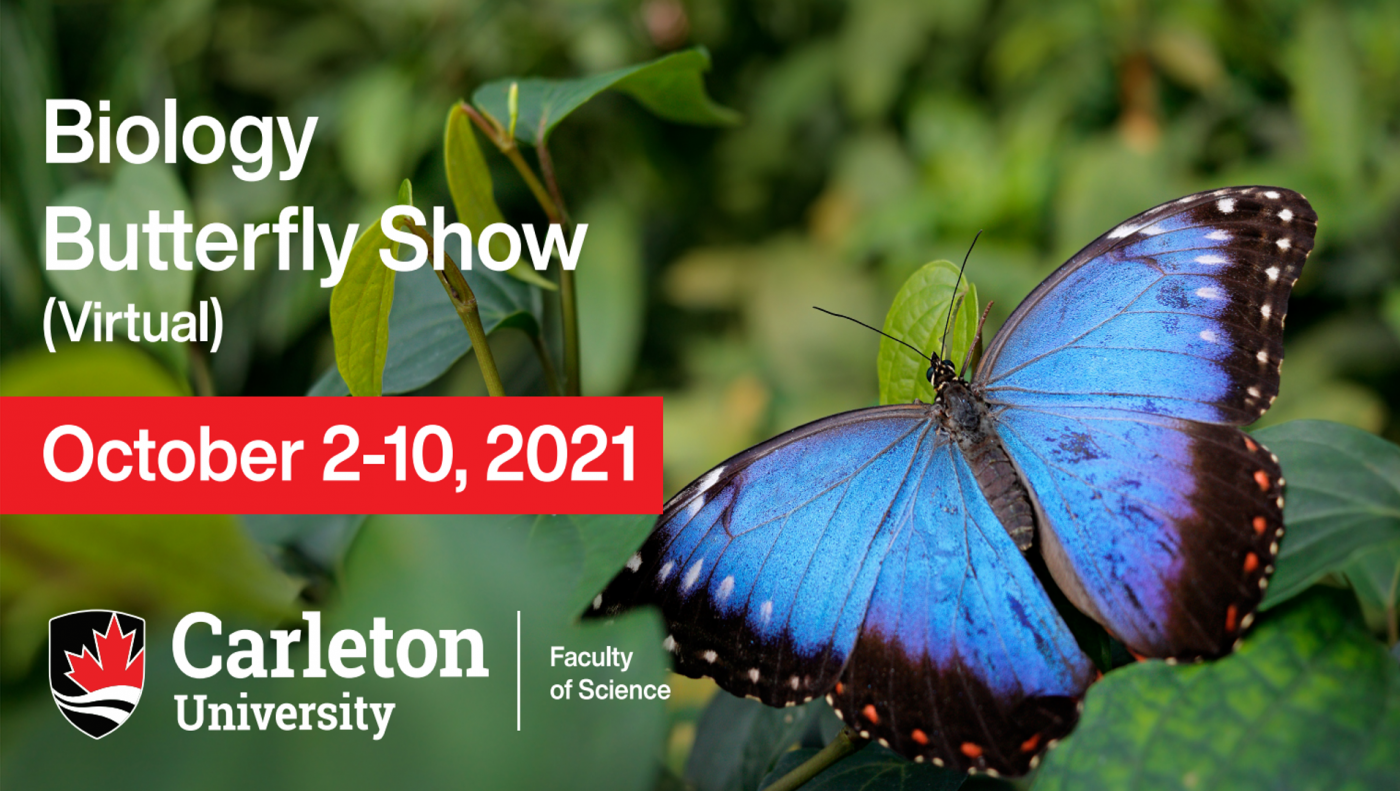 Virtual Tours
Join Let's Talk Science Ottawa volunteers from anywhere in the world for a virtual tour, delivered from inside the Nesbitt Greenhouses at Carleton University in Ottawa, Canada. As butterflies flutter around the greenhouses, you'll learn fascinating facts about these beautiful creatures. All tours will take place on Zoom and are open to the public, free of charge.
Community Outreach and At-Home Learning
In 2020, Let's Talk Science Ottawa produced 600 individual hands-on learning kits related to the Butterfly Show. These kits brought science learning to indigenous children and children living in lower socio-economic areas. During this year's show, Let's Talk Science Ottawa will be connecting with more than 30 classrooms. There will also be educational at-home activities geared toward younger audiences, including ideas for crafts and video tutorials, available online.
Social Butterfly
Follow along with the 2021 Butterfly Show on Instagram at @cuButterflies, where you'll have the opportunity to participate in a butterfly art challenge. And don't forget to use #CarletonButterfly2021 to interact with us on social media during the show!
Free Exhibit, Donations Welcomed
The Butterfly Show is free and open to the public, although we rely on your generous donations to keep it running year after year. Donations can be made online, using Carleton University's secure FutureFunder platform.
For more information please contact the Department of Biology or visit their website!
613-520-2478
The Butterflies are Free!
Don't you love free activities for your family? The Ottawa Butterfly Show is a free, open to the public annual event that runs daily for one week in October. The show features 1,300 butterflies that arrive in five separate shipments, representing 41 different species worldwide. Butterflies love to land on colourful clothing and will climb on to an open hand. The event is appropriate for people of all ages.
Show Location
The show takes place in the Nesbitt Biology Building, located in the south-east corner of Carleton University campus. Carleton University is located between Colonel By Dr. and Bronson Ave., along the Rideau canal.
Butterfly Show Engages Community
Carleton's biology department has been successfully hosting its Butterfly Show for nearly two decades. An annual community event held in Carleton's greenhouse, the Butterfly Show features exotic butterflies from 41 species worldwide. While the show is undeniably enchanting, the real beauty lies in the ways in which the show brings together community, enables family bonding and allows for a fun learning experience for children, students and adults alike.
Read the full story here.
Watch 'Papa Papillon,' a documentary by Fangliang Xu, here.