The Faculty of Science hosts public lectures during the academic year that address a scientific issue of the day as well as bring to campus well-known scientists from around the world. Established in 2002, the Discovery Lecture is designed to showcase and promote excellence in science journalism.
Sponsored jointly by the Faculty of Science and the School of Journalism, the lecture is held annually in the winter semester and is free and open to the public.
Dangerous Genes: From CRISPR Babies to the COVID-19 Lab Leak Theory
A presentation by Antonio Regalado, Biomedicine Editor, MIT Technology Review
Wednesday, Feb. 16, 2022 | Zoom Webinar
Lecture begins at 7 p.m. followed by Q&A at 8 p.m. ET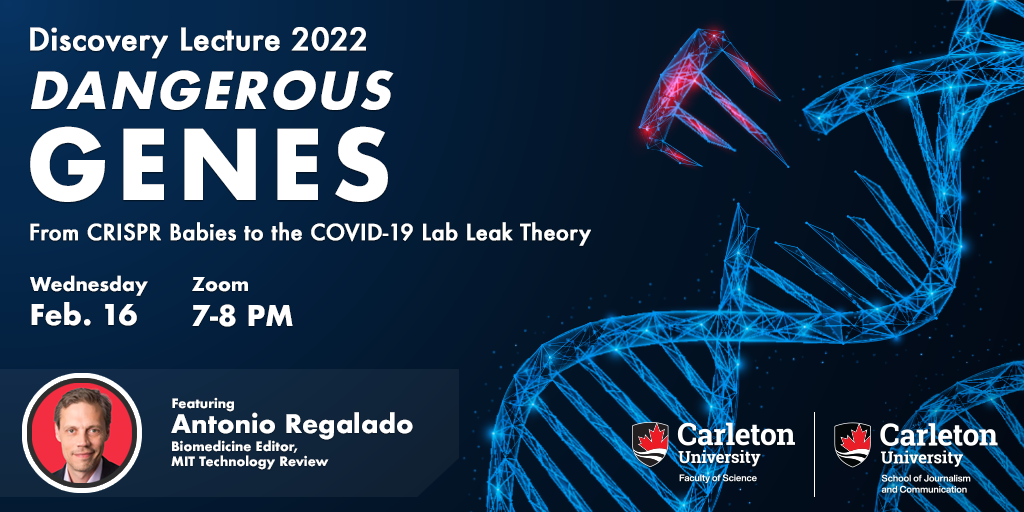 Find us on social media and join the conversation using #2022DiscoveryLecture
Antonio Regalado is the senior editor for biomedicine for MIT Technology Review. He looks for stories about how technology is changing medicine and biomedical research. Before joining MIT Technology Review in July 2011, Regalado lived in São Paulo, Brazil, where he wrote about science, technology, and politics in Latin America for Science and other publications. From 2000 to 2009, he was the science reporter at the Wall Street Journal and later a foreign correspondent.
Tweets by antonioregalado
Previous lectures, 2002-present
Spiders to Wrangle & Mountains to Climb (2021)
Dr. Maydianne CB Andrade
Analyzing Picasso: Close Encounters in Art and Science (2020)
Francesca Casadio
The Past, Present and Future of Medicine (2019)
Natasha Loder
What Dinosaur Teeth Reveal About How they Lived (2018)
Robert Reisz
A Quirky Past, An Uncertain Future (2017)
André Picard
The New Communication Climate (2016)
Andrew Revkin
How to Build a Robot Brain: From Artificial Intelligence to Emotional Intelligence (2015)
Dr. Angelica Lin
Truth, An Inconvenience (2012)
Jay Ingram
Darwinian Evolution: From Conception to Misconception (2009)
Dr. Andrew M. Simons
Evolution and Its Causes (2009)
Dr. Charles Goodnight
The Darwin Beat: Dispatches From the Frontiers of Evolution (2008)
Carl Zimmer
Can Animals Think? (2007)
Jay Ingram
Host, Discovery Channel, Daily Planet
And Now For the Weather (2006)
David Phillips
Senior Climatologist, Environment Canada
Cold As Ice: Canadian Know A Lot About Cold …. Or Do We? (2005)
Dr. Gordon Geisbrecht
Professor of Thermophysiology, University of Manitoba
Future Fantasy: Turning Dreams Into Reality (2004)
Bob MacDonald
Host, CBC Quirks and Quarks
Science, Non-Science and Nonsense from Aliens to Creationism (2003)
Dr. Lawrence Krauss
Ambrose Swassey Professor of Physics, Case Western University
Hey! There Are Cockroaches In My Chocolate Ice Cream (2002)
Dr. Joe Schwarcz
McGill Office for Chemistry and Society