Hosted by the Faculty of Science and the Carleton University Institute for Data Science (CUIDS), Data Day is an annual conference that celebrates the latest developments in data science and analytics research. The event includes presentations by Carleton researchers and industry experts, a keynote address, panel discussion and networking opportunities, as well as a poster competition to showcase graduate student research in data science across all disciplines.
Data Day 8.0: March 2022
Please check back for more information on Data Day 8.0!
The seventh annual celebration of all things data, Data Day 7.1: AI: What's Next? and Everything Smart, took place on Tuesday, March 30, 2021.
This full-day free virtual event, included panel sessions and research vignettes, a graduate student poster competition, and networking opportunities.
Data Day 7.1 brought together experts from government, academia and industry to explore the latest developments in data science and analytics research, and discuss topics related to this year's themes:
Artificial intelligence
Data governance
Smart technology
Big Data
COVID-19
Poster Fair Winners!
On behalf of the Data Day organizing team, we would like to congratulate all participants and winners of the poster fair!
DATA5000
First Place – TOWARDS EVALUATING THE BUILT-ENVIRONMENT: A HYBRIDIZED APPROACH FOR IDENTIFYING BUILDING ENTRANCE ACCESSIBILITY by Alex Lane and Julia Conzon
Second Place – PREDICTIVE ANALYTICS FOR INSIGHTS ON CANADIAN IMMIGRATION by Faye Urmaneta and Bruck Wendwessen Wubete
Third Place – A META-MODEL IN NLP FOR HATEFULNESS by Ariel Lee and Daniel Kyrollos
COMS5225
First Place – PRIVACY COMPLIANCE OF SMART STREETLIGHTS: A CASE STUDY OF THE CITY OF YELLOWKNIFE'S SMART CITY CHALLENGE PROPOSAL by Anna-Lena Theus
Second Place (Tied) – BEYOND THE BINARY: DEFINING ACCESSIBILITY IN MUNICIPAL EVENTS AND SPACE by Cora Hansen
Second Place (Tied) – RECONCILING DATA GOVERNANCE: OCAP® & THE INFC SMART CITIES CHALLENGE by Donato Leone
GENERAL
First Place – A DATA-DRIVEN APPROACH FOR DESIGNING SECURE SYSTEMS by Joe Samuel
Second Place – MACHINE LEARNING-BASED TEXTUAL AND SENTIMENT ANALYSIS OF COVID-19 SOCIAL MEDIA DATA: CITY OF OTTAWA CASE by Faraj Lagum
Third Place – ANALYSIS OF HISTORICAL GLOBAL TERRORIST TRENDS by Brittany Astles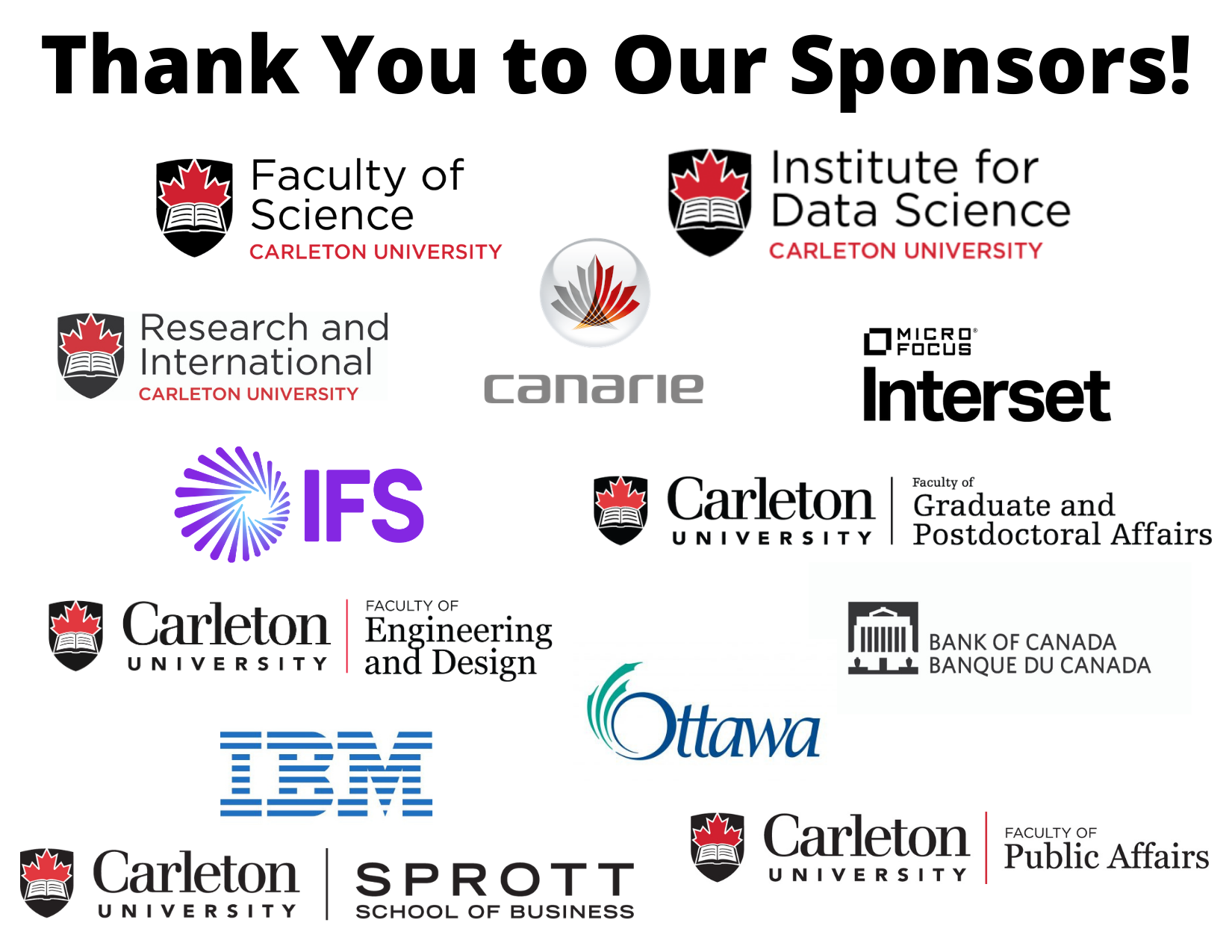 Learn More About Data Science
Carleton University is actively involved in data sciences, with over 170 researchers from five faculties and 26 university departments, schools and institutes currently engaged in research involving big data, data analytics and social sentiment analytics.
The Carleton University Institute for Data Science (CUIDS) supports the growth of interdisciplinary research and graduate studies in data science by serving as a hub for collaborative research and by hosting free public events throughout the school year, including its annual Data Day conference, which sees upwards of 500 attendees.
Data Day 6.0 is underway @Carleton_U with 500+ people registered. Off to a great start with a keynote by Anil Arora, Chief Statistician of Canada and the signing of an MOU to reaffirm Carleton's ever growing partnership with Statistics Canada. Lots of great student posters too! pic.twitter.com/3EROFrGgAr

— Benoit-Antoine Bacon (@CU_President) March 26, 2019
Big Ideas About Big Data
Designed to promote collaboration and celebrate the latest development in data science and analytics research, the inaugural Data Day in 2015 had 55 registrants. Parallel to the field's growing prevalence and the initiative's success, the sixth annual conference saw 10 times the interest and sold out in 10 days.
To read the full story, click here.