Past Event! Note: this event has already taken place.
Presentation by Prof. Francine Darroch, Department of Health Sciences
Women who experience marginalization have lower levels of leisure time physical activity and experience a disproportionate burden of adverse health outcomes. In order to address physical activity inequities, Taking Steps: Warrior Women's Wellness, a trauma- and violence-informed physical activity program was created.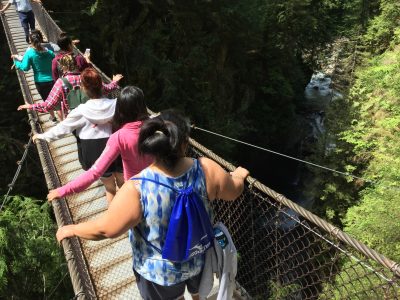 Participants were pregnant and/or parenting women in Vancouver's Downtown Eastside with lived experiences of trauma, racism, and substance abuse. We have worked closely with our community advisory board, who have guided every aspect of this research. Over 100 women have taken part in some aspect of the program and sixty women have completed the research assessment points.
During this talk, Dr. Francine Darroch and community partner, Jessica Webb (formerly of Crabtree Corner in Vancouver) will share their experiences in the development and facilitation of this community generated and women led research. We will share a short documentary on the Taking Steps program and discuss the successes and challenges in community based participatory research.
About the Speaker
Primary field of Specialization:
Community-Based Participatory Research, Social and Cultural Determinants of Health, Gender and Health
Research Interests:
Prof. Darroch's research focuses on equity-oriented health promotion with populations experiencing marginalization. Specifically, she examines social determinants of health, Indigenous health, maternal health, and the intersections of sex, race, gender, colonialism, and violence. Her current research aims to address inequities in physical activity for urban Indigenous and non-Indigenous pregnant women and parents with the goal to improve quality of life and overall health. This work addresses individual, systemic, and structural barriers to health. Prof. Darroch has secondary but active interests in gender and sport, including female distance runners and their experiences of pregnancy as well as examining controversial policies around gender verification in athletics. Overall, her esearch is committed to social justice and health equity.
To learn more about Prof. Darroch's research, please visit her faculty page.