Past Event! Note: this event has already taken place.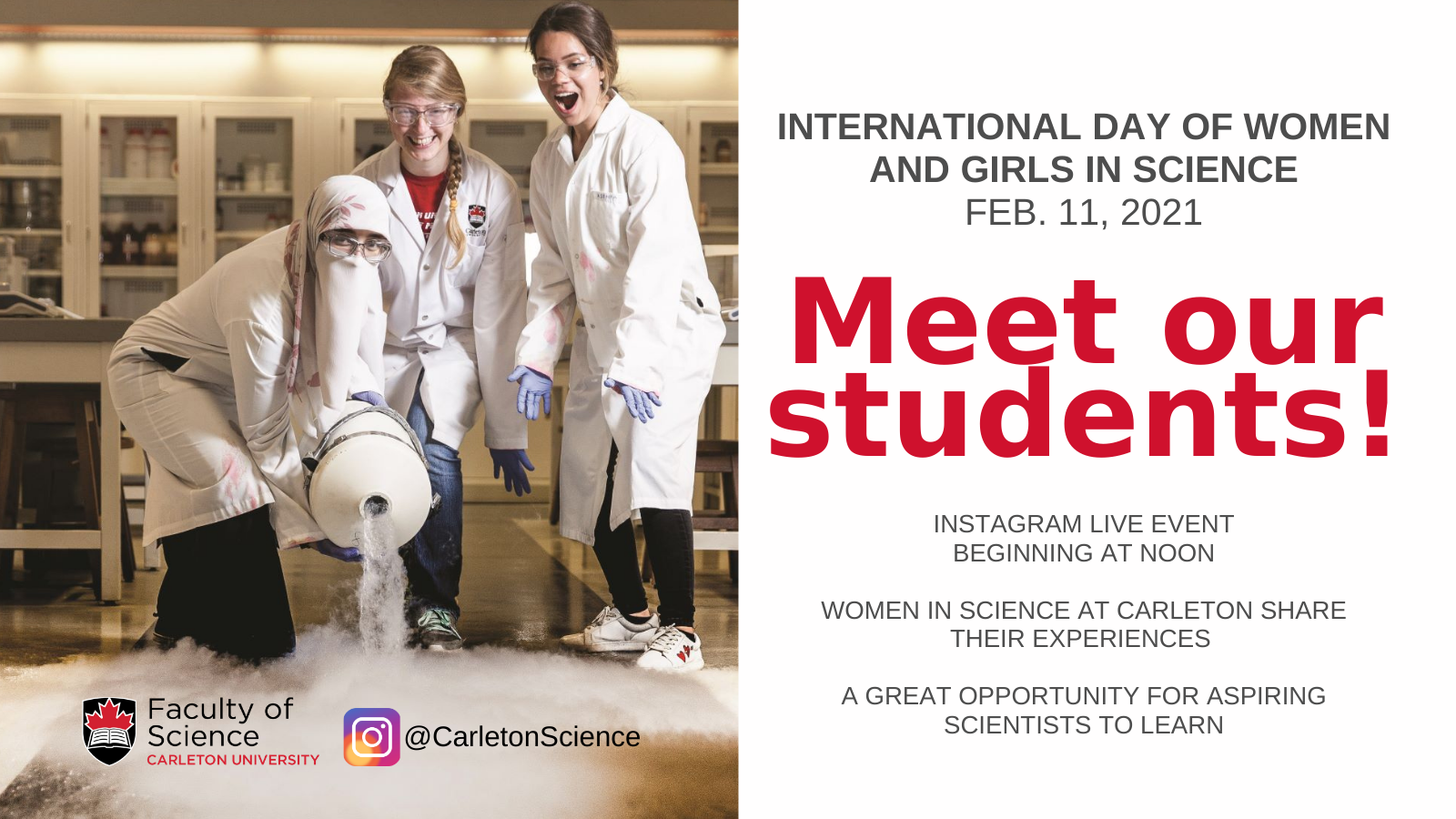 Meet our students!
Join us as we celebrate the International Day of Women and Girls in Science!
This year the Faculty of Science will run an Instagram live event on Feb. 11 to allow Carleton students to share their experiences as women in science in a series of fireside chats. Follow @CarletonScience on Instagram and check out the schedule below for full details.
Schedule
Time

Host

Guest

12 p.m.
Sabrina Chan
@CarletonScience
Emily Arsenault
@CarletonSSSC
1 p.m.
Emily Arsenault
@CarletonScience
Sabrina Chan
@CarletonSSSC
7 p.m.
Sarita Cuadros Sanchez
@CarletonScience
Millie Close
@CarletonSciSoc
8 p.m.
Millie Close
@CarletonScience
Sarita Cuadros Sanchez
@CarletonSciSoc
Participants
Millie Close, 4th Year Bachelor of Health Sciences, Minor in Communications and Media Studies


Millie is the President of the Carleton Science Student Society (CSSS) and a Healthcare Team Coordinator at the Science Student Success Centre (SSSC).

Emily Arsenault, 4th Year Bachelor of Science Honours in Neuroscience and Mental Health

Emily is Co-Coordinator of the Community Team and a Student Mentor at the Science Student Success Centre. Emily is a member of the Aguilar-Valles Lab, where her research focuses on the pharmacological action of ketamine and hydroxynorketamine on markers of synaptic plasticity for the treatment of Major Depressive Disorder and Alzheimer's Disease. Additionally, Emily is working with Dr. Kim Matheson to engage Indigenous youth in a sports-based mental health curriculum. To learn more about Emily's research, check out this Carleton Newsroom story, watch this video or follow her on Instagram @em.explains

Sabrina Chan, M.Sc. Earth Sciences

Sabrina graduated last year in the Chemistry and Earth Sciences program here at Carleton. Sabrina is a peer mentor and Co-Coordinator of the Community Team with the Science Student Success Centre. She is also Co-President of the Graduate Students in Earth Sciences Society and Co-President of the Ottawa-Carleton Universities Society of Economic Geologists. Her master's project is a geochemical and isotopic study on the Stone Cabin Caldera in northern Nevada. Some of Sabrina's hobbies include hiking, camping, and playing the piano/guitar.

Sarita Cuadros Sanchez, 4th Year Bachelor of Science in Biology, Minor in Business

Sarita is also a peer mentor at the SSSC and the VP Operations at the CSSS. She is part of the co-op program where she had worked with Health Canada, AAFC and ECCC. Sarita is passionate about research and she is currently doing her honours thesis at Prof. Jenny Bruin's Lab. She also loves science communication and that is why she has an Instagram account (@science.withoutborders) where she showcases scientists around the world, and she shares her story as a student.