Carleton University's MacOdrum Library recently played host to the Faculty of Science's inaugural Summer Teaching Institute, organized by Martha Mullally, Carleton University Chair in Teaching Innovation and Instructor in Biology and Biochemistry.
The mobile institute, offered by the National Institute on Scientific Teaching, aimed to equip faculty members from various disciplines with evidence-based strategies to revolutionize their classes and foster student engagement.
Over the course of a week, 21 individuals participated in intensive training sessions that focused on improving teaching methods and enhancing student success. Demonstrating their commitment to impactful teaching practices, multiple lab coordinators from the Department of Biology and Institute of Biochemistry actively participated in the training.
Mullally, the driving force behind the institute, expressed her excitement about bringing this initiative to Carleton and witnessing the enthusiasm and learning that unfolded throughout the program.
"The week is all about taking motivated, scientifically-minded people from the Faculty of Science, predominantly, and giving them more tools to improve and enhance their teaching," explained Mullally.
"Our big goal is to improve student success, and we know that impactful teaching is directly correlated with student success."
"The teaching practices we're talking about this week, such as active learning, have shown a disproportionate positive impact on historically excluded groups in science. So, by embracing these practices, we not only excel in teaching and learning but also promote equity within our campus community."
A Profound Impact: Faculty Members Share Their Experiences
Biology Professor Catherine Cullingham, who teaches Introductory Genetics to a large class of 300 students, highlighted her desire to create an engaging learning environment and promote peer-to-peer knowledge sharing. She also emphasized the exceptional support she has received from the Carleton community since she joined the university in 2020.
"In Carleton, the faculty, staff, and community are genuinely supportive and dedicated to driving us forward," said Cullingham. "Teaching, research, and accessibility to students are all prioritized. Through the institute, I discovered effective strategies for implementing active learning in large lectures."
Laura Pickell, an Instructor in Health Sciences, saw the institute as an opportunity to deepen her knowledge in education and gain new perspectives on student-centered learning.
By experiencing the student's perspective during an exercise, Pickell said she was inspired to make small yet impactful changes to her teaching methods, fostering greater engagement and emphasizing learning-focused approaches.
Devoting Time Yields Transformative Results in Teaching Approaches
Heath MacMillan, a Professor in Biology and Biochemistry, highlighted the value of investing time in the Summer Teaching Institute and its significance in improving the learning experience for students.
"I'm really interested in any way that I can help my students learn better in the classroom, and this is a great way to do it because we're concentrating a lot of knowledge into a small amount of time," MacMillan said.
"It's great to interact with peers and share our experiences, which has been incredibly rewarding. My brain is kind of exploding with all the ideas. Now it's about applying as many of these strategies as possible to ensure their effectiveness in our courses."
MacMillan acknowledged that dedicating a significant amount of time to the institute might seem daunting, particularly when juggling other responsibilities. However, he emphasized the necessity of such a commitment to bring about meaningful changes that enhance student learning.
"There were a few times last week where I had so much going on in my research lab, backed up with emails, that I questioned whether I could attend; but at the same time, that's exactly how we have to do these kinds of things."
"We have to devote a large amount of time for it and we have to commit to it, because otherwise we're not going to make the changes we need to make to improve the learning experience for students."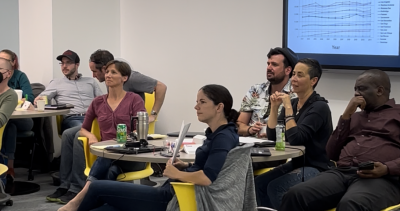 A Strong Community Committed to Excellence and Inclusion in Education
Carleton's Summer Teaching Institute serves as an inspiring example for faculty members, instructors, and lab coordinators across disciplines to embrace evidence-based teaching strategies, promote active learning, and prioritize student success.
As Mullally stated, "We have a strong community, and further strengthening it is important. I hope that people feel the support that they need to try new things in their class, their course, or in their lab. All of those new ideas will support student success and student learning."
And by investing in teaching excellence, Carleton continues to foster a caring community where all students have the opportunity to thrive and succeed.
Teaching Resources