Past Event! Note: this event has already taken place.
About the speaker
Sean Landsman is a self-proclaimed "fish nerd" with an undying passion for all things fishy. His formal scientific training is in fisheries science, but his interests have broadened in recent years. Today, while still interested in anything to do with fish, he is keenly interested in the practice and science of science communication.
In addition to teaching several courses in the Interdisciplinary Science and Practice program, including ISAP 3003 "Science Communication," Sean is also an active practitioner of science communication. He works as a freelance photographer and writer, having published in outlets such as National Geographic, the CBC, BBC Wildlife, and more.


Fish That Feed Our Rivers: An Exploration of Migratory Fishes as Ecosystem Service Providers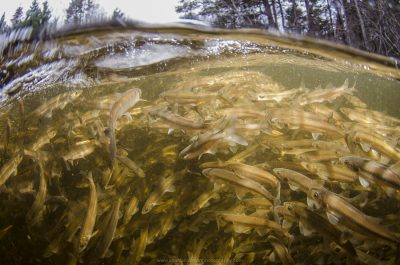 When we think of migratory fish, most conjure up images of bright red sockeye salmon darting past grizzly bears in the Pacific Northwest. And while sockeye salmon, and indeed all Pacific salmon, provide critical nutrient pulses to North American freshwater ecosystems, many other species provide similar "services," including inland migratory species and fishes on the East Coast. Join Dr. Landsman as he takes viewers on a stunning underwater visual journey of some of North America's most important migratory fishes. Viewers will learn about the natural history of these incredible species as well as results of recent research that have revealed new connections within stream food webs. Ensuring we maintain populations of these species will have direct benefits for the creatures that call our rivers and streams, including the land around them, home.
About the Science Café
Come and virtually join us for a lively discussion around a scientific issue of the day. Be prepared to be informed, engaged and even amused, as our professors share their scientific discoveries with you. All are welcome. For more information, please contact the Faculty of Science by email at odscience@carleton.ca