By Tyrone Burke
"It's always in our minds that a pandemic could be around the corner, but I never anticipated something of this magnitude," says Dr. Haroun Zayed.
During the COVID-19 pandemic, the Faculty of Science alumnus and emergency room physician has been treating patients at Ottawa-area hospitals. He's one of dozens of alumni of Carleton's Science Student Success Centre (SSSC) who are working to alleviate the crisis.
Our knowledge of COVID-19 is evolving quickly, and for medical professionals, the pace of change has been especially rapid. Clinical trials have launched, treatment recommendations have emerged, and hospitals have enacted protocols to keep their workers – and patients – safe.
Zayed credits his medical education with preparing him for the uncertainty, and the SSSC with helping him get accepted to medical school.
"Medical school prepared me for the unexpected. And as emergency room physicians, we go to work every day, unsure of what we'll see. We become comfortable with the unknown."
Ever-Evolving Policies, Research and Guidelines
Keeping up with an ever-evolving set of policies, research and guidelines has been a unique challenge, notes SSSC alumna Dr. Tetyana Maniuk, a medical resident who completed rotations in emergency medicine and psychiatry during the first months of the pandemic.
"We all understand that this is the nature of the pandemic, and policy changes respond to new information and evidence-based findings," says Maniuk.
"It has changed our work in many ways. There have been negative effects like anxiety around the unknown, and protecting myself and those around me, but there have been positives too. The pandemic has highlighted the amazing teamwork of medicine. From members of the community and within the hospital, the outpouring of support has been fantastic and encouraging. Everyone who is practicing physical distancing is taking action that will save lives. We're all in this together, and we all trust that we are doing our part for the big picture goal."
For both Maniuk and Zayed, the SSSC played a critical role in achieving their academic goals, but just as importantly, it provided a sense of community during their studies.
"The supportive environment and friends I made were instrumental in getting me through the medical school application and interview process," Maniuk says.
"However, the most amazing part was the community, and the support system it provided to every member. Everyone selected to be part of the SSSC was supportive and looked out for each other. That includes its staff, who have been running the SSSC for years, and have tons of experience helping members accomplish their goals."
Science Student Success Centre Plays Fundamental Role in Guiding Students to Medical School
The SSSC similarly helped Zayed define and achieve his goals. He credits it with playing a fundamental role in reaching medical school.
"My application was heavily based on what I did at the SSSC, but I didn't do it just to put it on the application. It helped me as a person, as well as in my academics and career."
He places a particularly high value on mentorship, at the SSSC and elsewhere.
"We are realizing that having a mentor is key in every field. It really helped to have upper-year students that could provide support and feedback."
By participating in the SSSC's med school nights, Zayed is paying it forward. At these events, SSSC participants meet with physicians to learn about their career paths. Next time around, the topic of practicing emergency medicine during the pandemic will surely come up.
"In some sense, things have changed a lot. In other ways, not all that much," Zayed says of his current day-to-day reality on the front lines.
"Medicine is medicine. We're still going in, seeing sick people, and practicing medicine. There have just been changes around us because of the pandemic."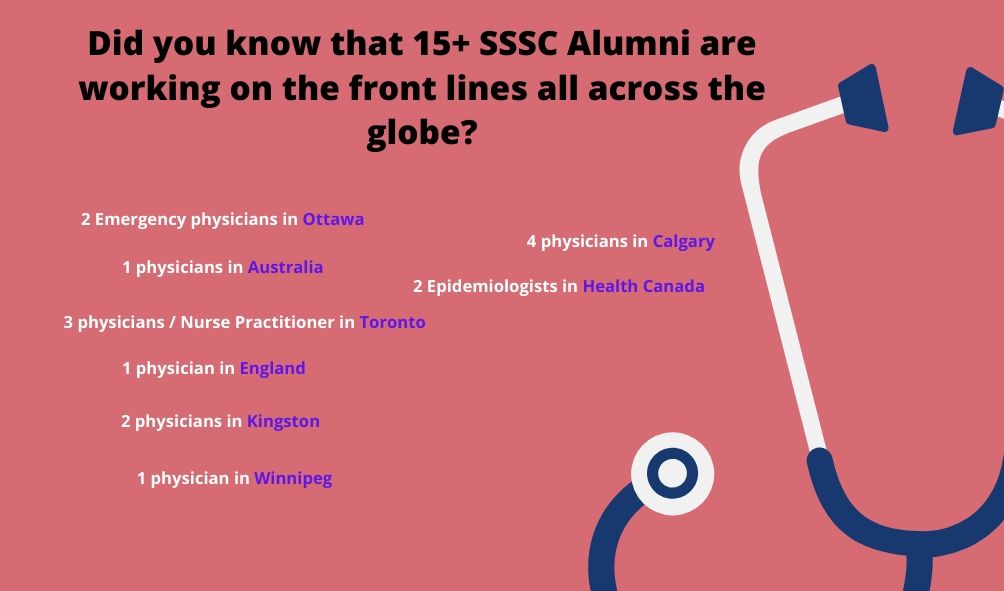 Wednesday, April 29, 2020 in General
Share: Twitter, Facebook